Grand Duchy of Luxembourg
Motto :
"Mir wëlle bleiwe wat mir sinn"
We want to remain what we are
Location : To the east, Luxembourg borders the German Bundesland of Rhineland-Palatinate and Saarland, and, to the south, it borders the French région of Lorraine. The Grand Duchy borders the Belgian Walloon Region, in particular the latter's provinces of Luxembourg and Liège, part of which comprises the German-speaking Community of Belgium, to the west and to the north respectively.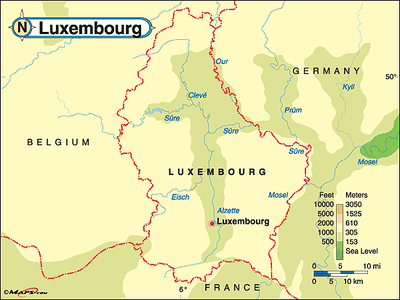 Capital / Largest city
Luxembourg
Denomyn
Luxembourgers
Official language
 French, German, and Luxembourgish
Population
531,441
Area
2,586 square kilometres
Legislature Parliament
Upper House Senate
Lower House Assembly
Governement Unitary parliamentary constitutional monarchy
Grand Duchess Her Royal Highness The Grand Duchess of Luxembourg
Currency Euro 
Religions
Roman Catholicism, Judaism, Greek Orthodoxy, Anglicanism, Russian Orthodoxy, Lutheranism, Mennonitism
The recorded history of Luxembourg begins with the acquisition of Lucilinburhuc, around this fort grew a town that became the center of a state of great strategic value. In 1437, the House of Luxembourg suffered a succession crisis, precipitated by the lack of a male heir to assume the throne, which led to the territories being sold by Duchess Elisabeth to Philip the Good of Burgundy.
Economy
Luxembourg is one of the worlds largest finnancial centers, and is a worldwide leader in the investment fund industry, as well as the largest international private banking centre in the Eurozone.
Advanzia Bank
Banque Carnegie Luxembourg
Banque Delen Luxembourg
Banque de Luxembourg
Banque et Caisse d'Epargne de l'Etat
(Most banks left unlisted)
The Grand Ducal Regiment of Luxembourg (Le Régiment Grand-Ducal de Luxembourg) is the primary fighting force of Luxembourg. The Regiment is one of the most elite in the world. Excelent at defense and great at offensive. (This was given to me by Xninja) The Regiment comprises of Luxembourg's only ground forces.
Land Forces
Edit
Le Régiment Grand-Ducal de Luxembourg- 1,000 men, Honorarily led by the Ducal Monarch.
Air Forces
Edit
2 Planes-  The Aimot 354
1 ship- The Destroyer Grand Duchess, stationed in northern france, this ship is a gift from france.
Charlotte's Wall, a wall built around the entire capital city of Luxembourg.